This website presents some new publications in Contact Mechanics and Impact Mechanics by J. Jäger. The information is in chronological order, as indicated on the corresponding buttons on the left side. A short information on some papers and a biography can be found on the next page, using the

button in the left side.
Some

are linked in the text, and hyperlinks appear as highlighted buttons

or Marquis Who's Who , which are linked with the related web site. It is also possible to order reprints and computer programs related to the papers.
Finally, a new discussion on plagiarism can also be found on this web site.
email: Please use the

button on the left side
At the end of 2004, a book with the title "New Solutions in Contact Mechanics" was published by WIT.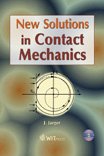 New Solutions in Contact Mechanics
J. JAEGER, Lauterbach Verfahrenstechnik, Germany
ISBN: 1-85312-994-1
Published: 2004
Pages: 328pp + CD rom
Hardback